Our most-read stories this week were:
Top Reviews for the week:
Jump to:
FESTIVAL UPDATES
AROUND THE GALLERIES
ON STAGE
ON THE PAGE
TALKS, EVENTS AND OPPORTUNITIES
STREAMING: This week, Sydney's Phoenix Central Park released details their highly anticipated HALO digital series. In August, Phoenix issued a call-out to Sydney-based musicians, suffering from unemployment and financial uncertainty due to Sydney's longest lockdown, to take part in a digital series to be filmed at the multi-award-winning performance space in Sydney's art district of Chippendale. It received over 500 expressions of interest.
Director of Phoenix Central Park, Beau Neilson, says that after an exhaustive selection process, 20 acts and over 60 artists were chosen to take part. Program includes Western Sydney rapper and singer A.GIRL, Afro-swing and Reggae double-bill Big Skeez & Gold Fang, post-punk trio Shady Nasty, multi-award-winning enthno-jazz group Zela Margossian Quintet, baroque-pop songstress Jessica O'Donoghue, Sydney-based Dutch analogue-synth maverick Nadia Struiwigh, and Ngiyampaa, Yuin, Bandjalang and Gumbangirr violinist Eric Avery.
Following the release of HALO, Neilson confirms that live performances are set to return to Phoenix Central Park in late November 2021, but that producing digital programming will remain an ongoing part of the organisation's mission. The HALO series will be released weekly in four parts starting from Thursday 11 November. The first five performances are available to watch now on Phoenix Central Park's YouTube channel.
TALK: What does consent look like in 2021? Join the conversation at the Ian Potter Museum of Art annual forum, across three afternoons, for free online forum sessions that will explore consent through five key areas: COVID-19, decolonisation, data and the consumer, human and non-human relations, and bodily autonomy. 30 November – 2 Dececember. More details and bookings.
TALK: Kate Fielding CEO of A New Approach will be joined by Wesley Enoch, inaugural Indigenous Chair in the Creative Industries at QUT, to discuss recent research to discuss ways the arts and cultural industries can prepare for the upcoming Federal Election. Tuesday 23 November 6.00 pm start. Online via zoom with SAMAG.
PARTY: Mona, in partnership with Music Tasmania, will host its first New Year's Eve party, Annus Finis, featuring an all-Tasmanian music line-up. It is the museum's first ever New Year's Eve bash, and will see a countdown to midnight on the Mona lawns and main stage, with an abundance of live music, food and drink, and end of year revelry on offer. From underground synth-pop to Japanese-influenced punk music and soulful hip-hop, the line-up celebrates a diverse selection of established and emerging artists from across the state performing for an all-ages crowd. Visit Mona for more information on the line-up and tickets (now on sale). 
Ahead of New Year's Eve, Mona will increase its trading days for the summer period, opening five days a week – from Thursdays to Mondays, 10am–6pm daily – beginning Thursday 30 December.
PARTY: A group of Victorian Screen and Stage Industry Organisations have come together to host the first annual Screen and Stage Summer (SASS) Party on 26 November, 6:30pm at the St. Kilda Town Hall. The night will feature live music from WILSN, a DJ set from Hotline DJ, an open bar and a food truck. Ticketed.
The SASS Party is hosted by: Australian Cinematographers Society (ACS), Australian Directors' Guild (ADG), Australian Guild of Screen Composers (AGSC), Australian Production Design Guild (APDG), Australian Screen Editors (ASE), Australian Screen Sound Guild (ASSG), Australian Writers' Guild (AWG), Media Entertainment and Arts Alliance (MEAA), Screen Producers Australia (SPA), Visual Effects Society (VES), and Women in Film and Television Victoria (WIFT Vic).
FESTIVAL UPDATES
Perth, Sydney and Adelaide Festivals have announced their 2022 programs. Quick dates for the diary:
VIC: IMMERSE 2021 arts festival breaks away from the traditional art gallery setting and transforms the City of Knox into a living art gallery, with over 30 site-specific installations, performances, projections and self-guided artist audio tours.
NSW: From this Saturday, explore 110 fantastic exhibitions in Sydney (and beyond) and online for Head On Festival. Photography lovers, here's how you can learn more about the opening weekend events.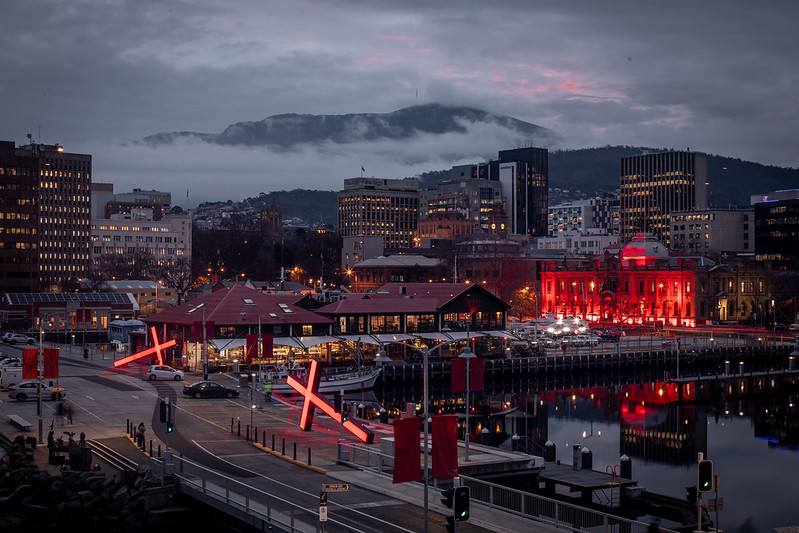 TAS: Australia's midwinter solstice festival Dark Mofo has announced its 2022 event will go ahead, confirming dates from 15 – 22 June in Hobart, Tasmania. 'After the death of the 2020 festival, and a near death experience in 2021, we're beginning the next era of Dark Mofo by exploring the ideas of rebirth, reincarnation, and new life,' Dark Mofo Creative Director Leigh Carmichael said.
The Tasmanian Liberal Government contributes $2.5 million annually to secure Tasmania's iconic events, along with David Walsh's $2.5 million, and dedicated marketing support from Tourism Tasmania. The full program will be announced in Autumn.
WA: With the tag line 'hot nights, hot theatre', The Blue Room Theatre has launched its Summer Nights 2022 program, a kind of mini festival described as a coming together of utopian dreams with dystopian nightmares.
You'll find visceral and raw theatre lit by audience torchlight, an angsty teen musical set in Perth's golden triangle and a dance work that exhausts and ruins the performers. Presented 21 January – 12 February 2022, check out the full program of 12 shows.
VIC: The City of Stonnington has announced its inaugural So Soiree Festival program, which features performances across comedy, cabaret, circus and live music, in partnership with Melbourne Fringe. For eight-days, So Soiree will present works by Selina Jenkins, Dave Thornton, Blunderland, Josh Glanc: The Best Bits, Werk It – Tight Fit, Damian Callinan & Paul Calleja – The Wine Bluffs among others. From 2 to 12 December.
AROUND THE GALLERIES
NSW: A major new public artwork inspired by the natural movement of water will be installed in Sydney's CBD this summer by Maria Fernanda Cardoso. Ripples and Droplets is a mural that spans the length of one wall of a 36-storey residential tower in the centre of Sydney (116 Bathurst Street), standing 11 stories high and covering 335 square metres. Cardoso is fascinated by the natural geometry of the world, and this work has allowed her to magnify details that remain hidden from sight.
VIC: RMIT Gallery will re-opened this week, with the exhibition Future U. It will close Saturday 26 February 2022. Future U explores what it means to be human during a time of rapid technological acceleration. The group exhibition presents creative responses to developments in artificial intelligence, robotics and biotechnology. 
VIC: Sidney Nolan: Myth Rider and Heather B. Swann: Leda and the Swan will finally open at TarraWarra Museum of Art on 4 December 2021 – 6 March 2022. Curated by Anthony Fitzpatrick, it brings together more than 100 works by Nolan from the period 1955–1966.
Throughout these interconnected series, Nolan employs his remarkable visual and mental acuity to meld classical allusions, literary sources, historical references, and his own personal response to war and its disastrous consequences, to convey a series of powerful insights into the broader mythic and universal dimensions of human conflict.
Heather B. Swann: Leda and the Swan is an exhibition of new sculptures and paintings by Hobart-based contemporary artist Heather B. Swann, who is renowned for her large-scale, meticulously crafted and highly expressive sculptural forms.
NSW: A new exhibition brings together 15 local artists and scientists at Coffs Harbour Regional Gallery, across paintings and ceramics, to poetry and film. The White Bluff Project presents diverse collaborative works that reflect the artists' responses to the site, including concerns of climate change and urbanisation. Take the 3D Tour. The White Bluff Project is open at Coffs Harbour Regional Gallery until 15 January 2022.
NSW: The inaugural Environmental Art and Design Prize exhibition opens with 226 finalist works across three arts venues on the Northern Beaches: Manly Art Gallery & Museum, Curl Curl Creative Space, and Mona Vale Pop Up Gallery. Each gallery will showcase outstanding works in the categories contemporary art practice, wearable and functional design, and young finalists respectively. Free public programs will be hosted on 21 November, 28 November, and 5 December to delve the artists' practices and engagement with the environment.
FAREWELL: The Australian Institute of Professional Photographers (AIPP) has been around for 75 years. But it recently announced it will be winding up. 'We understand that the last few years have been difficult for the AIPP, with membership revenue plummeting.' The organisation said that over 700 members were unable to meet their fee commitments during COVID.
The news comes with an understanding also that the organisation has faced a mix of financial mismanagement, branding issues and industry repositioning over the past decade, which has escalated pressures in tandem with the rise of smart phone technology and social media as further contributors to their demise
TAS: International artists Jean-Luc Moulène and James Capper, will present two exhibitions from 17 December – 9 May 2022 at Museum of Old and New Art (Mona). It includes newly commissioned sculptures alongside existing works, while Capper brings two mobile sculptures from Britain via Broken Hill to Berriedale.
David Walsh, Mona owner and founder says: 'Moulène and Capper represent polarities of psyche –desperate intensity versus methodical repose – but I interpret the artistic processes of each as more than the typical drive to create. These guys are driven to understand. To me that means they belong at Mona.'
Curated by Michel Blancsubé with Trudi Brinckman, and commissioned by Olivier Varenne, Jean-Luc Moulène and Teams will examine the relationships between material, form and the creative process; between art and industry; between artwork and observer. Four new sculptural works have been created using wax, metal, Triassic sandstone and timber from primeval Tasmanian underwater forests known as HydroWood.
Prototypes of Speculative Engineering, curated by Jarrod Rawlins and Emma Pike, combines Capper's interests in mechanical engineering, industrial design and evolutionary biology. Both exhibitions open on Friday 17 December 2021 and will run until Monday 9 May 2022. 
ON SCREEN: EXHIBITION ON SCREEN™ have this morning announced their Australian program for January – July 2022, comprising four of their uniquely immersive documentaries, exploring the world's best-loved art and artists.
Created in collaboration with leading international museums and galleries, the first release is Frida Kahlo, timed coincide with International Women's Day on Tuesday 8 March; Easter in Art will be in cinemas from 7 April, on location in Israel, the United States and throughout Europe, it explores the depiction of the Easter story in art across diverse cultures.
26 May will be the Australian premiere of Pissarro: Father of Impressionism (currently in production), directed by award-winning Australian filmmaker David Bickerstaff. And then Canaletto & The Art of Venice will be in cinemas across Australian from Thursday 14 July 2022, also directed by Bickerstaff.
Currently screening now is The Danish Collector: Delacroix To Gauguin.
VIC: Language Is a River presents film and dialogue-based works by a group of international and Australian artists exploring human communication through a spectrum of play, power and connection. Departing from the idea that an accomplished swimmer forgets the water they are in, the exhibition reflects on our immersion in language and its role in producing a self; showing at Monash University Museum of Art (MUMA) 27 November 2021 – 15 January 2022. Curated by MUMA's Senior Curator, Hannah Mathews, and MUMA's Curator (Research), Melissa Ratliff.
NSW: White Rabbit Gallery will finally re-open with a brand new exhibition, Big in China, on Wednesday 8 December. It explores what it means to make it Big in China to captivate the attention of over a billion wandering eyes and minds. The 12 artists being shown in Big in China include Feng Mengbo, Fu Xiaotong, Wu Wei and Zhang Peili. 11 December 2021 – Sunday 22 May 2022.
NSW: Casula Powerhouse Arts Centre (CPAC) presents, Jamming with Strangers, a scorching summer exhibition series exploring our connection to music running from 4 December 2021 – 27 February 2022.
The exhibition will host a huge range of news works by established and emerging Australian artists across 12 weeks, all answering the question 'what does it feel like to be connected with people through music?' The series also includes talks, public programs, dinners. performances and will culminate in an explosion of fashion, music, vogueing and ballroom culture with the highly anticipated event WEST BALL 3 on 29 January.
Program includes Julian Day, presenting a video work of various singers developed through choir workshops held at CPAC; My Le Thi and Azo Bell's interactive sculptural installation inspired by memories of village life in Vietnam, where music is an essential part of the commun; Gillian Kayrooz will capture the energy of Western Sydney's music cultures, while Kevin Diallo's work will celebrate the songs of his homeland, the Ivory Coast.
There will be a free launch event for Jamming with Strangers on Saturday 4 December. Exhibition continued through 27 February, Free entry.
ON STAGE
ACT: Tuggeranong Arts Centre's dance program Fresh Funk is moving from lockdown to the big stage in 4 weeks, with a story of honour, bravery, and finding your truth. Director, Caroline Wall, says the Fresh Funk version of Mulan, which takes inspiration from the traditional and much-loved 1998 Disney film, explores topics like genderfluidity and cultural stereo-types, but is also just a good fun show that will provide some much-needed comic relief. 
This blockbuster show includes a cast of over 250 dancers aged 9 years to adult, performing commercial hip-hop and contemporary dance to a soundtrack also featuring the music by Justin Bieber, Beyonce, Billie Eilish and Bruno Mars, and exciting large-scale video components. Saturday, 4 December 2021 at Erindale Theatre. For tickets. A filmed, and edited version of the live show will screen at Limelight Cinemas from 16 – 19 December. 
NSW: Discover Sydney's newest unique outdoor venue set under the stars, The Barracks, North Head, Manly. Audiences will be entranced by the artistry of Australia's biggest names in music, theatre, ballet, dance, rock, opera and jazz for five weekends of performances from Thursday 24 February to Sunday 27 March. Including performances by Jessica Mauboy, David Campbell, James Morrison, David Hobson, Lucy Durack, John Foreman and the Aussie Pops Orchestra, Queensland Ballet, Sydney Dance Company, Australian Rock Collective and more. For program details and ticketing.
TOURING: In 2022 Australian music icon John Williamson will celebrate his 52nd anniversary in the entertainment industry and foresee closing the book with his final tour 'Winding Back'. It will take in more than 40 dates across Australia through to mid 2022.
VIC: Live orchestral music will return to the Ulumbarra Theatre on 11 – 12 December, when Bendigo Symphony Orchestra performs a program by of Mozart to celebrate its 40th Anniversary. This concert will also feature the World Premiere of Kati Thanda-Lake Eyre a work composed by another leading Bendigo instrumentalist, composer, teacher, and conductor, Cally Bartlett. This work was composed during lockdown, and reflects the peace of Kati Thanda – Lake Eyre.