As art businesses rebuild and recover following the pandemic, the Netra Center for Arts and Culture, founded by Deepa Menon, is back offering a unique art space for Foster City residents to express their creativity and passion.
"I want this to be a hub for the city where art is concerned," Menon said.
Menon, a professional artist trained in several fields, is the founder and operator of the Netra Center. Located in Foster City at 750 Alma Lane, suite 110, it serves as a home for her Canvas and Cafe program, where students take classes on drawing and painting. It also works as a dance studio featuring several styles and as an after-school program space for elementary school kids to teach about art and other school subjects. An art gallery for her and others' work also hangs inside, and the space also hosts corporate events.
Menon said there are limited art galleries and studios for people to visit and enjoy in Foster City, something she wants to change. She envisions the space as an art gallery along with a hub for dance, education and relaxation.
Menon has a degree in graphic design from Toronto and graduated from the Academy of Art University, San Francisco. She teaches drawing and painting in all mediums, dry and wet, and other artistic mediums based on student needs, with other instructors also available. She is a contemporary abstract painter but teaches basic realism to students to start. Her hope is art will no longer be taken for granted and recognized for its importance. This would include having a whole art department in the schools beginning in kindergarten, one of the reasons she wanted to have after-school programs that focus on art.
"For mental peace and happiness, you need art. You need art everywhere. In schools, they want art," Menon said.
After moving out of Charter Square Shopping Center, she moved to Alma Lane in March of 2019. The business started slowly in 2019 before picking up steam, but momentum was lost after it closed in March 2020 due to COVID-19 restrictions. She initially only expected to be closed for a couple of weeks and did not think it would last, particularly as case counts were low. After a stop and start closure and opening, the Netra Center remained closed for several months.
"It was a steep decline," Menon said.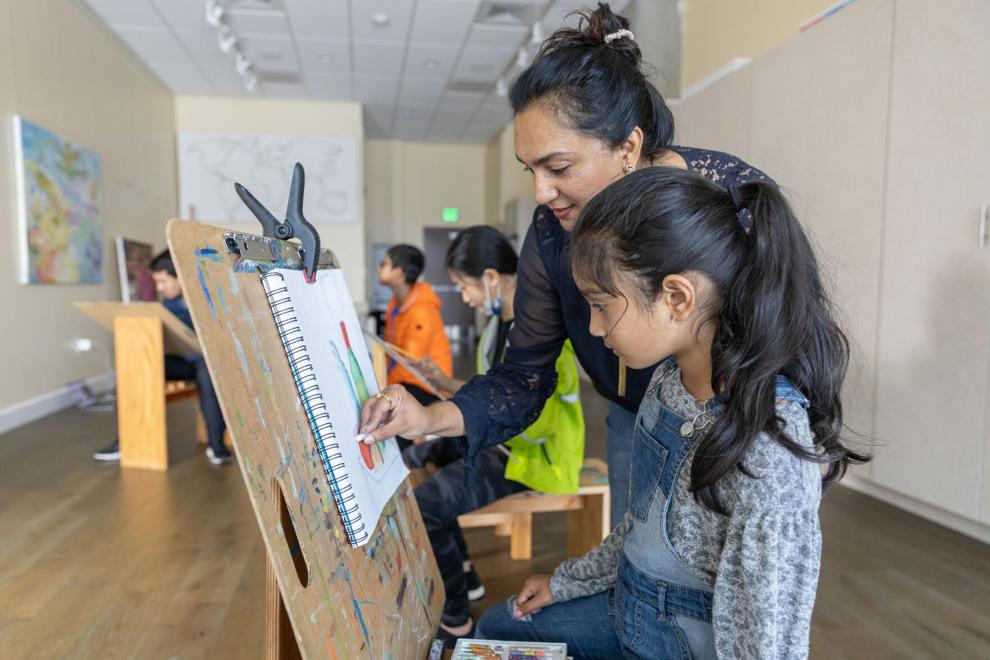 She enjoyed being home with her daughter and having time for herself but eventually became restless about the length of the closure around the third month. The financial stress of being closed during the pandemic also weighed on her. The rent combined with utilities is more than $9,000 a month. Even with rent relief, she still paid thousands of dollars a month in utilities. She got help through grants but had to dip into savings to get by as she also paid her instructors throughout the pandemic with financial help from the city even though her space was closed. She planned to reopen in June 2021 but prolonged the closure due to the delta variant. She is still trying to steady financially, with hopes the new school year will bring people back.
"We are still in the middle of it. It's not like we are completely there yet. We thought vaccinations would help. It helped to a certain extent, but then the delta came, which was even worse," Menon said.
She is optimistic things will improve, relying on her highs and lows as an artist to see her through. Her art center continues to expand, and she has seen teenagers return to dance and painting classes, with children likely to return when vaccines are given to younger ones.
"Yes, the pandemic happened. I have all these issues going around, but I have always been a very optimistic person," Menon said.
Her long-term goal is to revive the business and in the city at the Netra Center. In the long term, she wants the space to be a center for art in Foster City, having an open studio to involve the public and bring different styles of teaching to her after-school program.
"I want to bring the community together through art," Menon said.
(650) 344-5200 ext. 102