Nigerian phenom Omah Lay toured the U.S. just last year — but in hindsight, he sees it as a throat-clearing. Back then, he was operating on the strength of his debut EP, Get Layd, as well as an appearance on Masterkraft's remix of Justin Bieber's "Peaches."
That wouldn't be his final foray with the Biebs, though. In 2022, the pair teamed up once more on Lay's ode to relationship discord, "Attention." The song formed the heart of Lay's debut album, Boy Alone, which dropped in July 2022. He describes it as his most inward-looking release to date, a catalog of his ups and downs as he rocketed to the world stage.
Now, Lay gets to transfer the album's "stories" — his word — to American audiences. At this prospect, he's elated. "It's not going to be, like, just coming and playing the show. It's going to be like a whole interaction," he tells GRAMMY.com. "Like, 'I've told you the story; now, this is me coming again to tell you right in your face what I was saying in the album.'"
Lay's Boy Alone tour kicks off Sept. 7 in Silver Springs, Maryland; brings him through the East Coast and up to Canada; and concludes in October with gigs in California and Texas. Check out the full itinerary here, and read on for a soul-searching interview with Lay about Boy Alone, what he wants to impart to audiences, and which dream collaborators remain.
This interview has been edited for clarity.
What can fans expect from this tour kicking off next month?
This is the Boy Alone North American tour. Bro, fire as usual; fire as usual. I think the previous one was just, like, an introduction. This time, I know my fans; they know me. We have a stronger bond, especially in the U.S. And with the new project, Boy Alone, it's just more fire, bro.
Can you expand on that a little bit and tell me how the show will deepen and you'll connect with fans more than ever?
Yeah, because this time, I have new songs. I have the album Boy Alone. And with this album,  I told a lot of my story, so this is going to be me performing my latest stories for my fans. I think it's going to be more intimate. It's going to be like a one-on-one session.
How would you summarize what these stories are? What are you putting across?
The story for Boy Alone is literally just my story of the past two years. It's been me going through the whole thing — the whole fame, the whole becoming who I am today. The past two years of me being a superstar. My ups and downs, my emotional breakdowns, my happy moments, and everything.
I just summarized that experience and told the story of every experience I had on the album. So, this is me coming to the U.S. and telling them those stories right in their face.
You used the word "superstar." What might people not realize about being one?
I am who I am; everybody's who they are. And I think everybody is born to be who they are. The album is not about me being a superstar; there's really nothing special about being a superstar. I'm just another human being walking the earth and making music; that's it.
There are [innumerable] artists in the world making music just like myself. There's really nothing special; there's nothing hard; there's nothing difficult. But I think one little thing that people misunderstand is the fact that the celebrity is also human.
How would you describe how you strung together your experiences on Boy Alone?
Like I said, it's just a series of my experiences put together. It's just like photographs; all I did was capture moments and make songs with them. Instead of pictures, they are in words and melodies.
"I'm a Mess": that's me. I was a mess at some point, and I made a song with it. A song like "Temptations": I was going through a lot, but I still had people who stayed by my side. And I captured it and put it in a song.
How do you feel you've deepened as an artist over the past few years? I imagine you've become more in touch with yourself and your feelings.
Yeah. I'd say I discovered more of myself. I grew into who I am today. I wasn't like this; I didn't know all of this. And I'm really grateful for growth; I'm really excited. I'm really happy that I grew the way that I did, because this is not where I came from; I came from a different place.
So, it took me a while to realize and grow into becoming who I am today.
You've worked deeply with Justin Bieber — and what an ever-developing artist he is. Can you talk about working with him?
Working with Justin Bieber is one of those things on my to-do list that I just checked. He's one person that I've always wanted to perform with. And when he reached out to me at first — when I first dropped my project Get Layd — I was like, This is it. This is part of the dream.
We went back and forth and got a couple songs. I was supposed to be on the Justice album, but I was on the road and a lot of things happened. But we kept going back and forth with records until we got "Attention." 
It's a classic. Justin Bieber is a legend. And, bro, it's a blessing to have Justin Bieber on a record.
Read More: Justin Bieber's Sonic Evolution: How He Transformed From Bubblegum Pop Heartthrob To Mature, Genre-Melding Artist
You've been nominated for a NAACP Image Award for Outstanding International Song, for "Understand." How does it feel to receive that honor?
It's a blessing too. Part of the dream; part of the journey. I don't have the best words to describe the feeling, but I'm excited and feel really blessed to be here today. I feel really blessed to be part of the people making Afrobeats what it is today.
Can you talk about your life and career after this tour, into the end of 2022 and into 2023? How are you charting your next era?
I'm not God! [Laughs] I don't have my whole life planned out until I'm gone. But there's a picture in my head; there's a picture of who I am and who I want to be in my head. And every day of my life, every day that I wake up, I just try to get one step closer.
It's not like everything is planned out. But going forward after the tour is more music; more of Omah Lay. It'll be my life; it'll be me. That's all I can be: I'm Omah Lay, and that's all I can be.
So, yeah, it's really not rigid; it's not like it has to be this way. It's flexible. I can wake up tomorrow and go to Asia and stay in Asia for two years. It's not all mapped out — you feel me?
You mentioned that working with Bieber was a dream come true. Who else would you like to collaborate with?
I have a bunch of artists on my list. I have Post Malone, I have Kendrick Lamar, I have Drake. Every day I wake up, like I said: I just try to get one step closer.
The proliferation of Afrobeats is one of the most positive developments I've seen during my time in the music industry. A lot of the music's great and the fans are so nice.
The whole of Africa is really excited about African music becoming this big. It's part of the dream: Afrobeats to the world, Africa to the world. 
And as much as Africa feels like one place where a lot of things are not right, when our people see something good coming out of Africa and a thing from Africa going global, they're happy and they support it, because it gives them hope.
Any negative associations of Africa as a whole are so funny, because it contains an infinitude of cultures and communities. It's not just one thing.
Yeah, Africa is really big. It's different cultures, different everything. The music is different in different parts of Africa. Like, Afrobeats — I would still call it African music, but it's West African: Nigeria, Ghana, Kenya. And if you go somewhere like Egypt, it's different.
If you go to South Africa, you do amapiano and house. That amapiano sound — I'm really optimistic about it.
What have you been reading or listening to lately? What's swirling around your imagination?
Bro, I've been listening to a lot of amapiano music. Yo, there's this boy that I found. The world needs to know about this kid. His name is Ethan Bortnick. He's so cool. His music is like, crazy jazz; I don't even know what to call it.
I'm really hoping that the world discovers this guy, because I can see something in him. That's what I've been listening to for the past two days; I've just been listening to him.
Before we get out of here, is your best work ahead of you?
Oh yeah, definitely. As a matter of fact, every time [will be] a great record. I think it's normal as a human — you are just never satisfied. You feel like it's never enough. No matter what you put out right now, you feel like there's so much more inside.
Yeah, I think my best work is still ahead of me, and I don't know when I'll reach it. Because my career [is] just two or three years old. So, I still have a lot of time.
Love Burna Boy & Wizkid? Listen To These 5 African Genres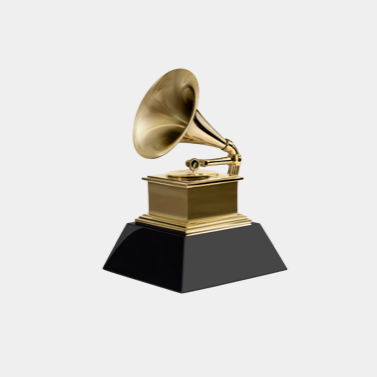 Get notified of exciting GRAMMY Award news and upcoming events!
Be the first to find out about GRAMMY nominees, winners, important news, and events