Los Angeles Times roving foreign correspondent and photojournalist Marcus Yam was recently awarded the 2022 Pulitzer Prize in Breaking News Photography "for raw and urgent images of the U.S. departure from Afghanistan that capture the human cost of the historic change in the country."
PetaPixel spoke with Yam to learn about his journey from growing up in Malaysia and studying aerospace engineering to becoming one of the world's top conflict photographers with a Pulitzer Prize to his name.
Warning: This article contains graphic photos that viewers may find disturbing.
Documenting the Fall of Afghanistan
When the United States announced that it would be withdrawing troops from Afghanistan, Yam wanted to be there to record what he felt was going to be an uneasy transfer of power. Yam landed in Afghanistan on August 14, 2021, as the Taliban was advancing on the capital Kabul on the double. The very next day, Afghanistan fell to the Taliban, to the surprise of the U.S. and the world.
Yam stayed on in Afghanistan from August to October even after most western news media had departed. He wished to record the brutality and suffering perpetrated on the citizens after 20 years of living in relative safety with the presence of American troops.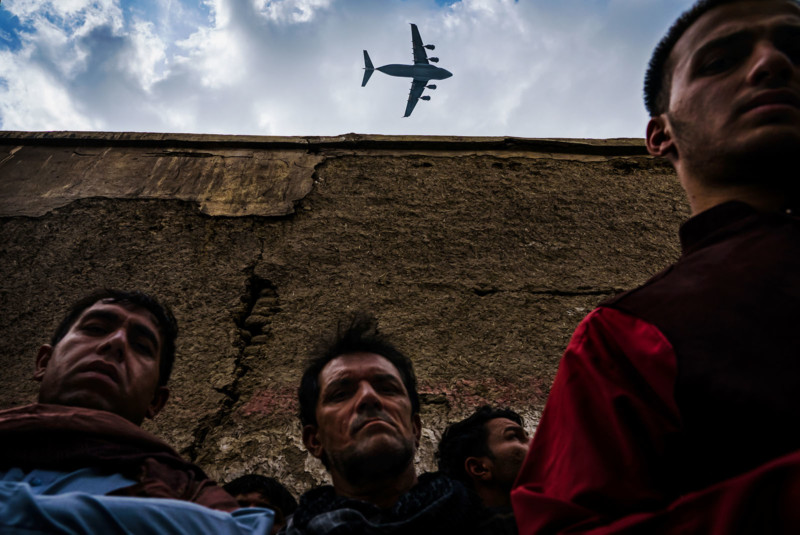 As chaos quickly spread throughout Afghanistan, several editors at the Los Angeles Times asked Executive Director of Photography Calvin Hom to get Yam out of Afghanistan for his own safety. But Yam managed to convince his DOP that he should be allowed to stay and continue his visual and written reporting.
"I told them that we have a responsibility to stay with this story, and I wanted to see it through," Yam tells PetaPixel. "We have a unique perspective, and we should pursue it.
"When the Taliban was encircling Kabul, and other news organizations were pulling their journalists out, I had a decision to make. I'm thankful I have very trusting editors who allow us to follow our instincts on the ground.
"Of course, it was a calculated risk. I was not fearless. I was amongst just a handful of westerners that remained behind. I had organized exit plans every day just in case. And even after my run-in with the Taliban [detailed below], I pleaded to my editors to stay and keep working. I went back to work the next day or two with a terrible headache and swollen forehead."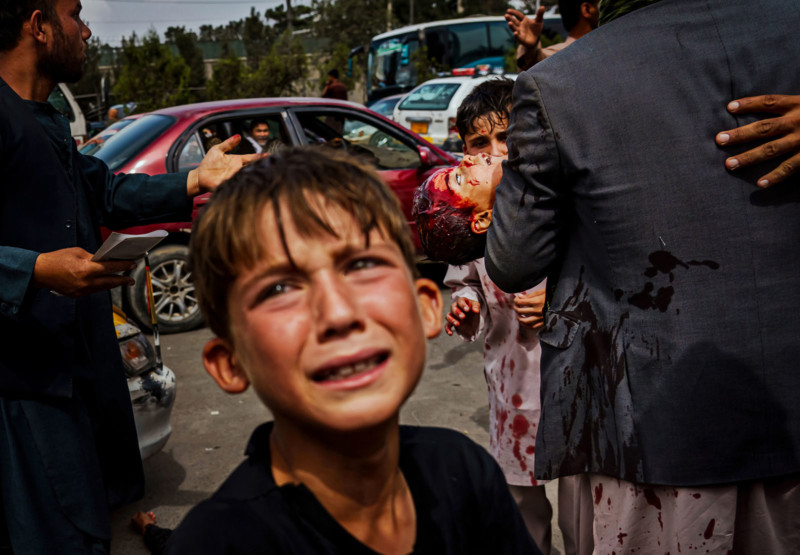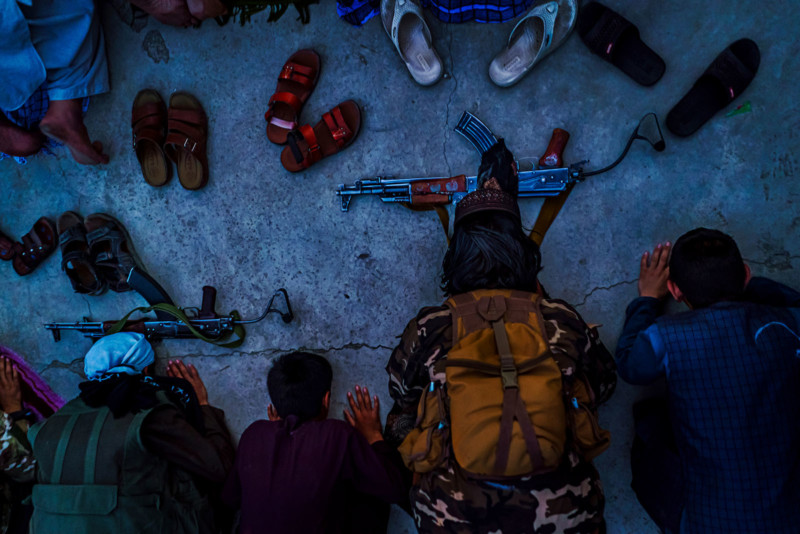 Sucker-Punched by the Taliban
In August 2021, Yam was covering a protest when "At some point, I moved to take a picture of a scuffle," he writes in an account published in the Times. "Someone tugged on my camera strap, and I felt the kinetic-energy connection of a fist to the side of my head. A Taliban fighter had sucker-punched me. He was a tall, burly man who started screaming in Dari, the local language, pointing at our cameras."
Fortunately, a second Taliban fighter present, who also earlier attacked Yam, could speak English and understood when the photographer explained that he was a protected journalist.
"He apologized profusely for our troubles, but not for beating us," Yam writes. "They became solicitous: We were each brought a bottle of cold water and a can of Monster Energy drink, a favorite of the U.S. soldiers who controlled the city until a few days ago.
"[The second fighter] asked us: 'Please, could you tell me who hit you? We will capture him and punish him.' I looked at my colleague in disbelief. It was a surreal scene."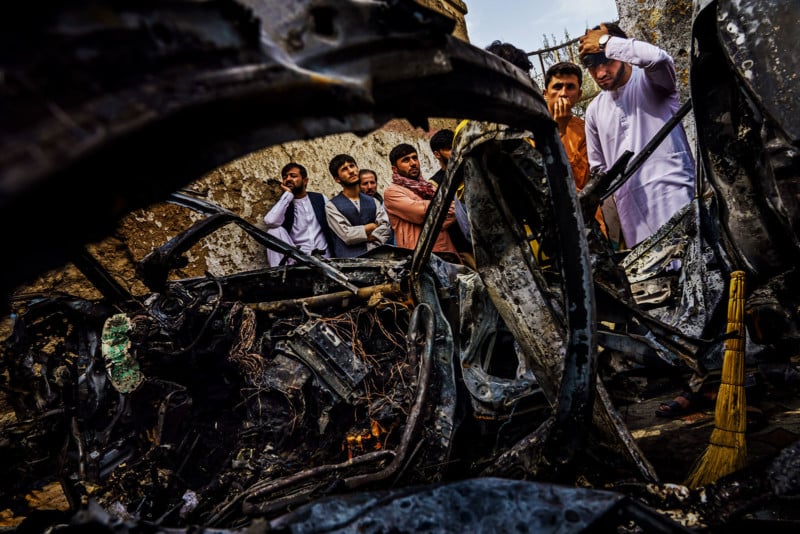 From Afghanistan to Ukraine
After Russia invaded Ukraine in late February 2022, Marcus traveled to Kyiv, Ukraine, in March to cover the conflict amid military bombardments. Fox News cameraman Pierre Zakrzewski, whom Yam knew well, was killed along with two others covering the war.
"It could be any one of us," says Yam. "I didn't for a second think it could not be me. That's why working in conflict zones is difficult."
Yam finds the photography of the war in Ukraine hard to describe.
"It's unpredictable. It's also heartbreaking. But I am also very loved by the humanity on full display in this war," he adds. "War is war. It is horrific, and it is senseless."
On that first trip to Ukraine, Yam had to step away from the conflict for health reasons.
"Not injured by the war, but the grueling work pace took a toll on my body," he explains. "I eventually got really sick, and my over-the-counter medication wasn't working. My body just gave up."
It takes quite a bit to stop Yam in his work, as the photojournalist seems to have it in his blood to continue telling a story even when he is exiting a scene. In October 2021, when Yam was finally leaving Afghanistan on a humanitarian evacuation flight from Kabul to Doha, Qatar, the flight was still taxing on the runway when they heard the news that a local mosque had been bombed. At that moment, Yam briefly considered asking the pilot to let him off the plane so he could go back to work.
From Kuala Lumpur, Malaysia to Buffalo, New York
Yam was born in Malaysia, making him the first Malaysian-born photojournalist (and sixth Los Angeles Times journalist) to win a Pulitzer for photography. He was also in his first year as a foreign correspondent when he won journalism's top honor, making it an even more remarkable achievement.
"I was not involved in photography in Malaysia," says Yam. "Looking back, my focus and passion in the things I do in life have always been singular. I oftentimes don't allow room for much more. As the phrase goes from my favorite movie, Gattaca, 'You want to know how I did it? This is how I did it: I never saved anything for the swim back.'
Yam grew up in Kuala Lumpur, the capital of Malaysia, where he nearly dropped out of high school as he was spending most of his waking hours playing video games and dreaming of becoming a professional esports gamer.
But he soon realized his adulthood would be difficult, got back into studies, and at age 19, was accepted at the University of Buffalo, New York, from where he holds a degree in aerospace engineering. He had picked the major with aspirations of one day becoming an astronaut.
"I Fell into Photography Because I Was Lazy"
"Towards the end of my time in university [of Buffalo], I was a student in need of English credits in order to graduate, and the college newspaper offered said credits in exchange for writing or photography services," explains Yam. "Clearly, I thought I chose the path of least resistance. So, I bought my first real camera.
"I fell into photography because I was lazy."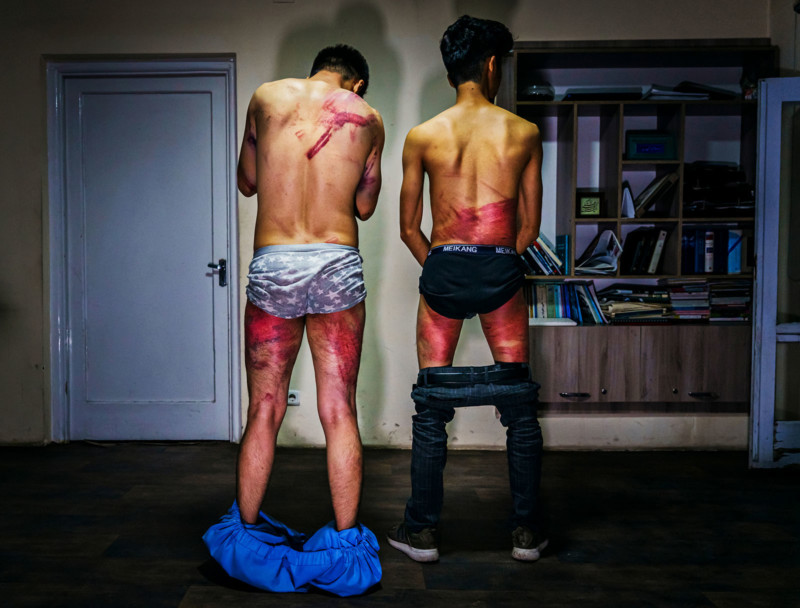 John Davis, then Design Director at the Buffalo News, offered him a photo internship during his student days. Yam initially laughed at the idea. Davis told him that he had something special, and if he did not like it, he could go back to aerospace engineering.
"I could not say no to that challenge," Yam wrote in an Instagram post in 2017. "I am completely indebted to folks like him for helping [me] grow into the photographer I am right now."
"After my first internship at The Buffalo News, I was at a loss. I had made the biggest decision in my life, and yet I didn't have a roadmap to guide me," says Yam. "So, I pulled up my sleeves and went to work. I met teachers like Loret Steinberg, a professor at RIT. I worked for legendary editors like Michel du Cille and Michele McNally, who were not afraid to tell me that I needed a lot more work on myself and my voice in order to succeed.
"It was not enough that you knew how to take a good picture. They taught me that you needed to know why you were making pictures and what kind of meaning you seek from it."
Yam has been in the photojournalism business for more than a decade, but he really began his professional career in New York when he caught a big break with a prestigious internship with The New York Times.
"My internships at the Washington Post and The New York Times led to what most consider a lucrative freelance career in NYC. I worked every day. I lived in one of the biggest cities in America. And I was young and hungry. At some point, McNally asked me if I knew why I wanted to become a photographer. She could see I had not answered that existential question for myself.
"That conversation sent me on a quest. So, I left New York and took a position at The Seattle Times. Why? I wanted to grow… After three years in NYC, I realized [I] was chasing success and a paycheck, but I was hitting a plateau in terms of challenging myself."
In Seattle, Yam ended up being with a team of journalists who were awarded a Pulitzer in 2015 for their coverage of a deadly 2014 landslide in Oso, Washington.
The work was more community journalism oriented, and Yam even dabbled in conceptual work involving a series of triple exposures to illustrate an essay about Seattle being a global city. He worked in the rain a lot. He was miserable not because of the weather but because he didn't know how to work in the rain. So, he fixed that and was ready for the next challenge.
"Eventually, I outgrew my role in Seattle," says the photojournalist. "It had only been a year or so into my job. Right around the same time, I met Calvin Hom, the Director of Photography at the Los Angeles Times, and he recruited me to come and work for him. The rest is history. I have been here since, and come this October, for as long as I am still employed, I'll mark eight years with this fantastic institution."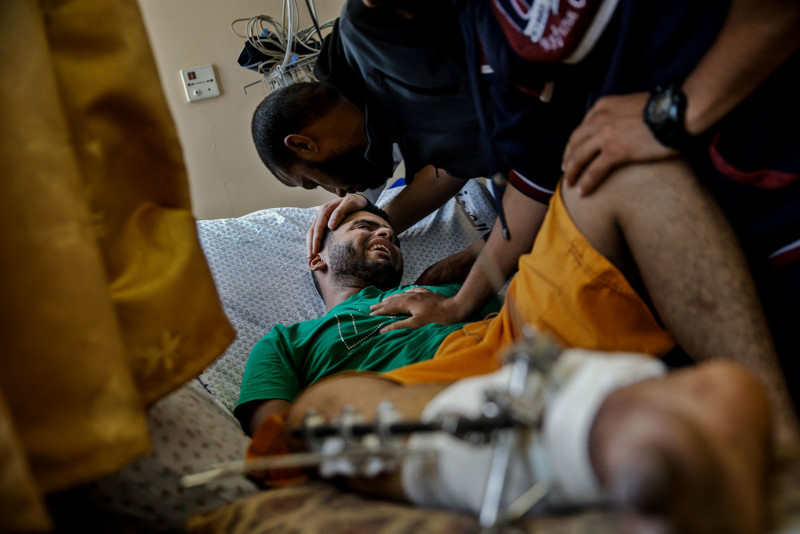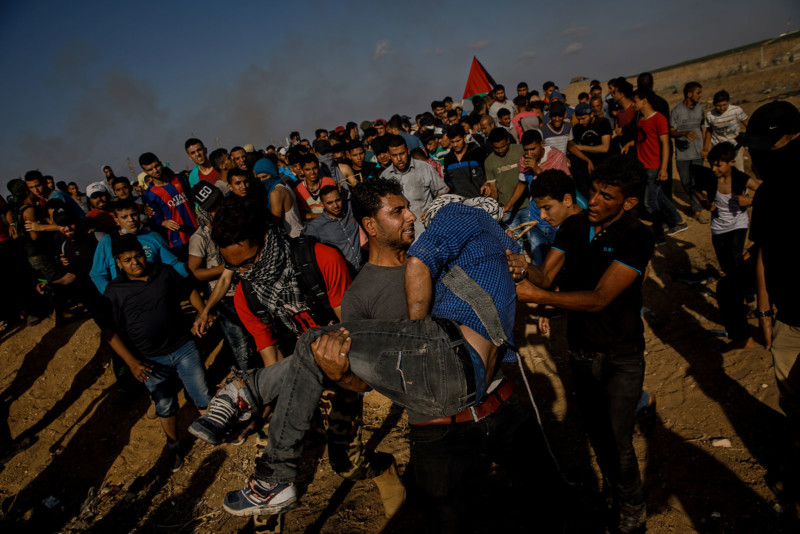 Yam has also documented deadly clashes in the Gaza Strip, covered the San Bernardino, California, terrorist attacks in 2015, the deadly landslide in Oso, Washington, and many other critical events for which he has received numerous awards.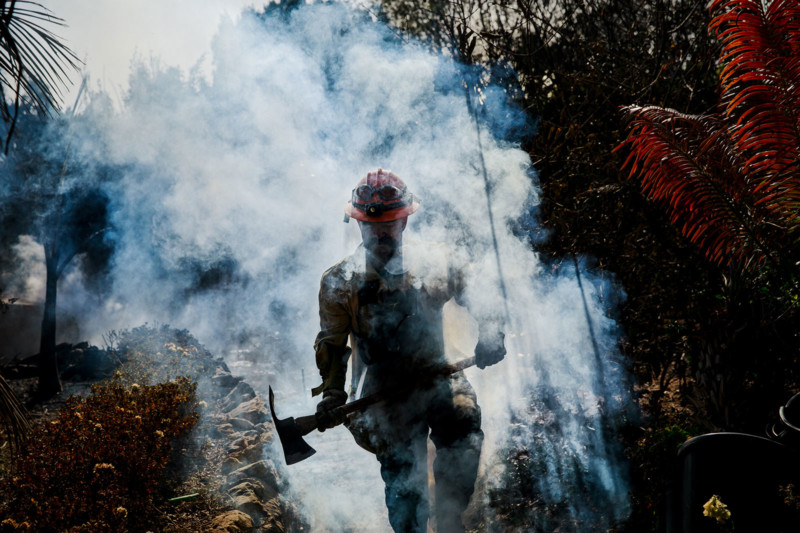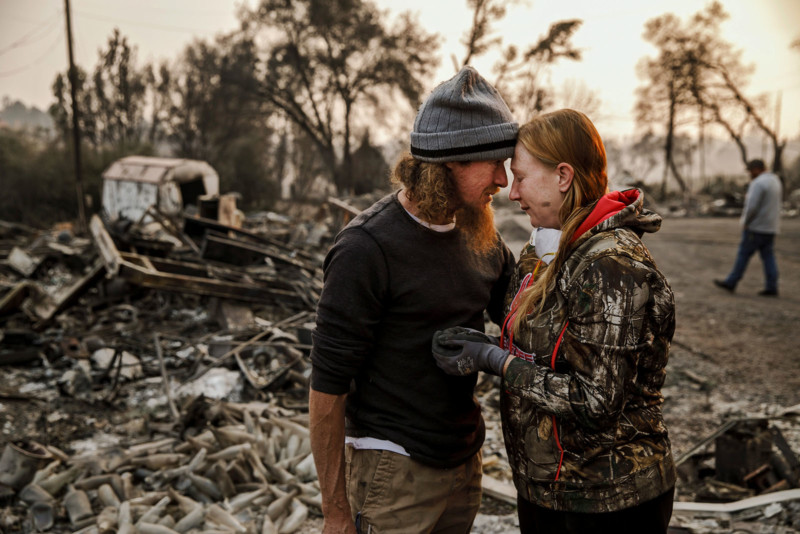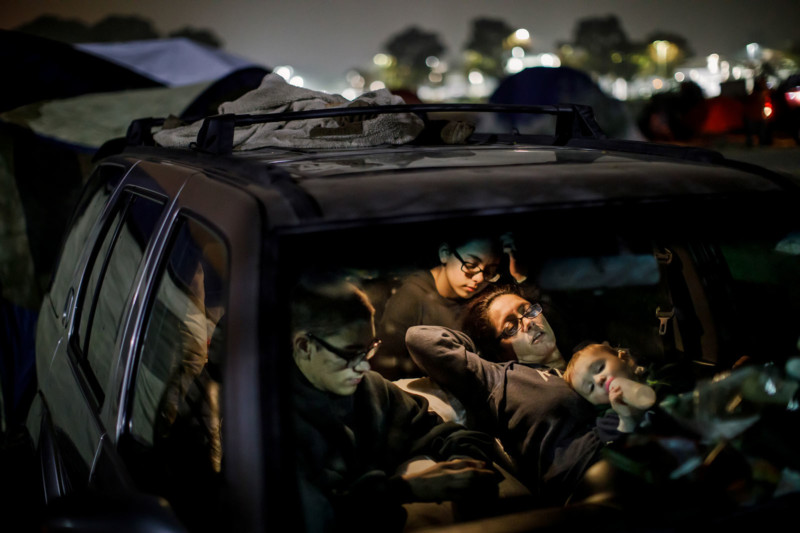 Camera Gear and Traveling Light
Yam shoots with a Sony a9 II full-frame mirrorless camera with the Sony FE 24-105mm f/4 G OSS, a zoom lens he leaves on his camera body all the time. This arrangement allows him to travel light in the field. He does pack two more small lenses for reserve as well.
He mainly shoots available light but also carries a tiny flash from Hong Kong-based LightPix Labs FlashQ system called the X20, an item he discovered on PetaPixel.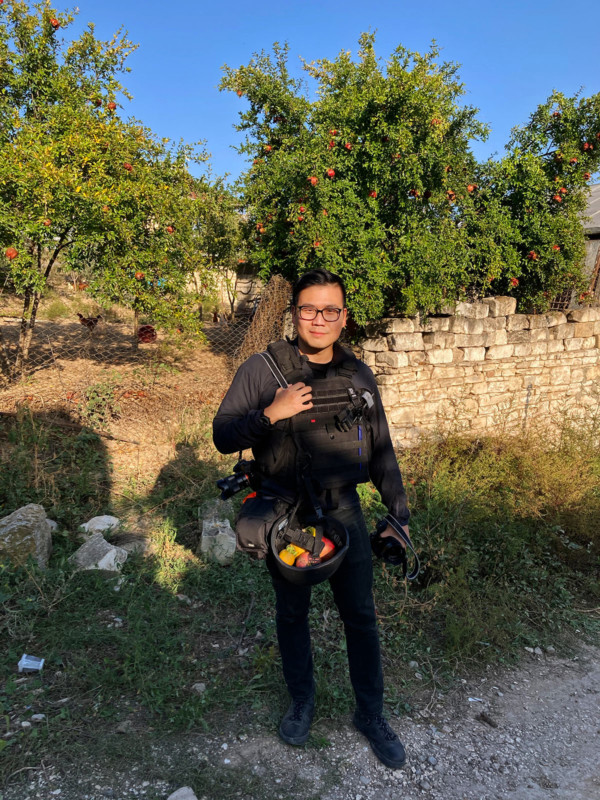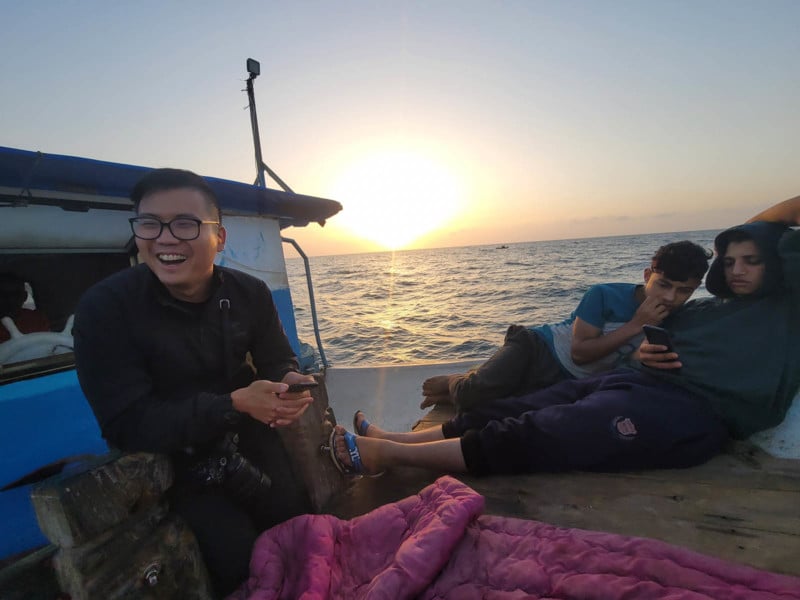 Yam shoots both RAW as well as JPEG, and his favorite photo software for culling is what most photojournalists use: Photo Mechanic.
At the time of this writing, Yam has once again traveled from Los Angeles to Ukraine to take viewers to the frontlines of the ongoing conflict and struggle.
You can see more of Marcus Yam's work on his website and Instagram, and all 15 photos of his Pulitzer-winning portfolio can be found on the prize's website.
---
About the author: Phil Mistry is a photographer and teacher based in Atlanta, GA. He started one of the first digital camera classes in New York City at The International Center of Photography in the 90s. He was the director and teacher for Sony/Popular Photography magazine's Digital Days Workshops. You can reach him here.
---
Image credits: All photos courtesy Marcus Yam of the Los Angeles Times.