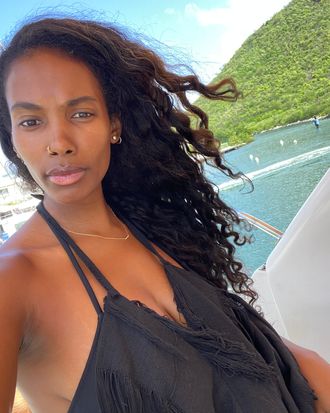 Ten years ago, Melissa Butler started making vegan lipsticks in her Brooklyn kitchen while she was working on Wall Street. They weren't your average liquid lipstick; they were bold, vibrant, and daring, in colors that evoke confidence, and they were made especially for Black women. Since 2012, her sideline has grown into a successful beauty business called the Lip Bar. The vegan cosmetics company has since expanded to include other offerings, such as tinted moisturizer, highlighter, and blush. Butler's mother is a licensed aesthetician, and Melissa grew up doing face masks every weekend with her. But does that mean she's going to follow social-media beauty trends? Absolutely not. "We come from a world where women were putting Vaseline on their faces and they look just fine, so I've never given in to these ten-step skin-care trends," Butler says. To her, the recipe is simple: Drink water, go to sleep, stay moisturized, and be prepared to respond to the seasons.
As one of the first founders to put vegan makeup products on the map, Butler has never been intimidated by the now overly saturated "clean beauty" market. She describes her products as "skin care that is going to do nothing." In other words, it's basic, everyday skin care that doesn't require a lot of education to use. She knows skin care has gotten extremely complicated lately and just doesn't think most people have time for all that. "Everyone doesn't want to be a scientist," she says. "If you're a real skin-care girl and you want to do all the research and work, there are so many clinical brands for you."
Butler's newest venture, Thread Beauty, launched earlier this year as a Gen-Z-focused makeup brand centered on self-expression for the girl who's "busy as fuck." Ironically enough, one of the Lip Bar's cult-favorite lipstick hues is Bawse Lady, a highly pigmented red with blue undertones that looks good on everyone. That was Butler's goal all along: "We wanted people to feel like that girl when they put this color on — like they can take over the room."
Creating universally flattering shades for every complexion is intentional for Butler. She takes her responsibility as a beauty founder seriously because she knows firsthand the struggles people go through trying to find the right skin-care and makeup products for them. "The more that I can create universal products that just work and give my community confidence, then I've done my job," she says.
As soon as she wakes up, she meditates for a few minutes, then she might work out. "Catch me at 6 a.m., or don't catch me at all" is her fitness motto. But she has noticed that her skin actually thrives the most when she's sweating, so she loves the sauna and uses it to sweat out her toxins. Then it's time for the shower, where she exfoliates every day with a konjac sponge; because it's so gentle, she never suffers from overexfoliation or stripping too many natural oils from her skin. The sponge buffs dead skin cells away for a soft, glowy effect.
Butler also uses an exfoliating cleanser a few times a week, depending on how often she wears makeup or if she's a bit more active, such as going on a hike, since her skin is prone to buildup. Her most loved exfoliating cleanser? Urban Skin RX's LacticGlow Micropolish Resurface & Brighten Cleanser with AHA and lactic acid.
"I have normal-to-dry skin and it gets cold as shit in Detroit, so I don't like using cleansers that are going to strip my skin," she says. "I like basic cleansers because they allow my skin to remain stable, as opposed to always recovering from something. If you're always giving your skin something to react to, or even your body, it's always rebuilding, whereas my skin remains in this very normal, stable state." The gentle cleanser of her choice is Avya Skincare's non-foaming Gentle Cleanser, which is formulated with neutral ingredients like peony to soothe the skin and neem-leaf extract to protect the skin barrier.
There is one ingredient Butler doesn't play about, however: niacinamide. "I have textured skin around my nose, so niacinamide really comes in handy in that area," she says. She often applies Glow Recipe's Watermelon Glow Niacinamide Dew Drops post-cleanse. The gel-like multiuse serum delivers a potent dose of this ingredient to reduce the appearance of hyperpigmentation and improve skin texture. Plus, the watermelon extract and hyaluronic acid boost hydration, leaving skin visibly brightened with a slightly dewy finish.
In the evening, Butler sometimes applies Estée Lauder's Advanced Night Repair serum, a product that dermatologists consider an all-in-one. The technology-based formula plumps and firms the skin while leaving it smoother with fewer lines and wrinkles.
Because she lives in such a cold climate, Butler prioritizes moisture. She almost always uses two moisturizers, explaining that the only way she'll use just one is if she seals it in with an oil. Without this double method, she finds her skin gets too dry. She tests a lot of moisturizers but, especially for winter, loves Urban Skin RX's Mega Moisture Illuminating Night Cream, made with vitamin E and shea butter.
Butler's other treasured moisturizer is Clarins' stress-fighting Multi-Active Day Cream, which is formulated to reduce the appearance of fine lines and add radiance. It also has SPF 20 to protect against UV rays and signs of aging.
Using oils to seal in moisture is nonnegotiable for her, especially during dry seasons. Currently, she has been trying one she got from a local Detroit business: The botanical Aphrodite Face Oil is packed with vitamins and fatty acids for a velvety smooth skin feel.
For nighttime, Butler's favorite is Kiehl's Midnight Recovery oil, a blend of lavender essential oil and lavender primrose oil to calm the skin while restoring and replenishing it overnight to maintain elasticity.
Butler says she has never had a facial that was mind-blowing enough to convince her that they're worth getting frequently: "I've never seen a big difference in my skin. Maybe that's because I'm drinking my water, going to sleep, and doing proactive skin care as opposed to waiting for somebody else to fix my face." She also acknowledges that a lot of people can't afford to invest in regular facials, and while it may be good for the moment or can give skin a refresh for the next couple of days, it's just not sustainable for her. (She does use a gua sha tool and a facial massager every night. "I'm a big fan of them and absolutely think they help me with my fine lines," she says.)
"I don't think clean beauty is real," Butler says. I think it started with good intentions, but it has quickly turned into a marketing phrase." The Lip Bar was created and marketed as vegan and clean in 2012, before clean became a buzzword, and now she thinks it's just overused in the industry. "For the Lip Bar, being clean is having a list of 200 ingredients that we don't use in our products, and being vegan means we're not using any animal products or any animal by-products."
Makeup wipes are one thing you'll never see in Butler's line. While she thinks they're convenient, she doesn't believe they're effective in cleaning your face. They've long been reported to strip the skin, but for some reason they still have a hold on people. "For years, people have begged us to launch wipes, but they're bad for the environment and they dry the skin out," Butler says.
Butler uses the mantra that it's okay for things not to be okay. "As a founder, you're always fighting — you might be fighting your team, investors, or customers and not in a negative fight, but you're just always pushing for more and trying to get better, so sometimes things will go wrong," she says. So the approach she takes is to understand that everything is a learning opportunity and has a domino effect. When she's stressed, she stress eats, especially carbs, and her eyes get puffy. "Everything is connected, and that realization showed me that I don't have time from stress," she explains.
Butler posts bareface selfies often but doesn't overthink them. She does have boundaries, though, on social media and a long time ago decided she didn't want to be "the face of" her brand. She values her privacy and doesn't want to constantly have to explain her life or her choices, especially to her customers. "I'm really comfortable with who I am as an individual. I started the Lip Bar because I believe women are enough, and I want women to believe in themselves. I've always thought beauty is fun, but it's not necessary. Beauty can help boost your confidence, but it shouldn't be your confidence."